Don't miss the incredible opportunity to grab the Burnley Home Kids Football Kit 22/23!!!
Are you looking for a High-Quality Burnley Home Kids Football Kit On Sale?
At
footballkitsale.com
, we offer a wide range of shirts and kits perfect for children and adults. Whilst our price may not be the cheapest one, we guarantee the highest quality at the cheapest price.
Benefits of Purchasing our Burnley Home Kids Football Kit 22/23
Get your hands on the perfect Burnley Home Kids Football Kit On Sale 22/23 today and enjoy the following benefits:
Guaranteed 99% similarity to authentic kits
We have amazing deals and discount codes starting at the cheapest price possible
Premium quality assurance for every single product
Flexible return policy within 30 days
Important Information
When purchasing a Burnley Home Kids Football Kit On Sale, please note:
Once we process your order, you cannot return or refund personalised kits with names/numbers. However, we will provide a refund if the item is damaged or defective.
A size chart is available on our website, so please check your size before placing your order.
Our products are high-quality replicas of the original shirts and kits. Moreover, we guaranteed 99% customer satisfaction.
Should you have any product concerns, please email us at footballkit.sale@gmail.com.
Payment Option Guide
To ensure that your shopping experience is a breeze, we present you with the following options:
PayPal: It's super easy and secure! Select the PayPal option during checkout, and it will redirect you away to the PayPal website to complete your purchase.
Credit Card: If you're more comfortable using your credit card, don't worry at all! During checkout, just go ahead and choose the credit card payment option. From there, you can easily enter your card details without any problem. We take your security seriously, so you can trust that your information is in safe hands.
If you need some assistance with the credit card payment process, we're here to help! Click HERE for our step-by-step guide that walks you through each stage of payment.
Personalisation
We offer Burnley Home Kids Football Kit personalisation options that allow you to personalise your kit with the name and number of your favourite player, or even your own name. By following a quick two-step process, we can print your name in the same style worn by the players, giving you the same look and feel as your favourite player:
Step 1: Select Personalisation Options When visiting the product page of the Burnley Home Kids Football Kit 22/23, make sure to locate the "Personalise" button. Once you click on it, the personalisation tool will open, with a place to type your name and number.

Step 2: Enter Your Name and Number The personalisation tool requires your name and number (we recommend names no more than 10 letters (including spaces) and numbers no more than 2 digits). The number and the name cannot be changed once submitted, so double-check that it is correct and the spelling is correct.
Shipping Information
Generally, we deliver your shirt within 8-12 working days, but on some special occasions, we may take a bit longer. During the checkout process, our system will calculate and display the shipping fees, and we will present shipping options based on the availability of each location.
Size Chart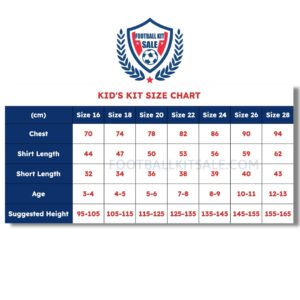 Description of Burnley Home Kids Football Kit 22/23
Nestled in the heart of Lancashire, Burnley Football Club has been a cherished symbol of the town since its establishment in 1882.
This storied club boasts an illustrious history, with two league titles, one FA Cup, and one Community Shield adorning its trophy cabinet.
The devoted Burnley fan base, affectionately known as the "Clarets," is renowned for their unwavering loyalty and vocal support, proudly donning the iconic claret and blue kit.
Embodying a tireless work ethic and an unyielding physical style of play.
Burnley etches its legacy through its unwavering commitment to nurturing young talents through their esteemed academy, resulting in the production of remarkable players like Jay Rodriguez and Dwight McNeil.
Our Burnley Collections:
Customers who bought a Burnley Home Kids Kit 22/23 are also interested in
=> Free Shipping When You Buy 3+ Items