Don't miss the incredible opportunity to grab the Man City Bruyne 17 Away Kids Football Kit!!!
Are you looking for a High-Quality Man City Bruyne 17 Away Kids Football Kit On Sale?
At
footballkitsale.com
, we offer a wide range of shirts and kits perfect for children and adults. Whilst our price may not be the cheapest one, we guarantee the highest quality at the cheapest price.
Benefits of Purchasing our Man City Bruyne 17 Away Kids Football Kit 22/23
Get your hands on the perfect Man City Bruyne 17 Away Kids Football Kit On Sale 22/23 today and enjoy the following benefits:
Guaranteed 99% similarity to authentic kits
We have amazing deals and discount codes starting at the cheapest price possible
Premium quality assurance for every single product
Flexible return policy within 30 days
Important Information
When purchasing a Man City Bruyne 17 Away Kids Football Kit On Sale, please note:
Once we process your order, you cannot return or refund personalised kits with names/numbers. However, we will provide a refund if the item is damaged or defective.
A size chart is available on our website, so please check your size before placing your order.
Our products are high-quality replicas of the original shirts and kits. Moreover, we guaranteed 99% customer satisfaction.
Should you have any product concerns, please email us at footballkit.sale@gmail.com.
Payment Option Guide
To ensure that your shopping experience is a breeze, we present you with the following options:
PayPal: It's super easy and secure! Select the PayPal option during checkout, and it will redirect you away to the PayPal website to complete your purchase.
Credit Card: If you're more comfortable using your credit card, don't worry at all! During checkout, just go ahead and choose the credit card payment option. From there, you can easily enter your card details without any problem. We take your security seriously, so you can trust that your information is in safe hands.
If you need some assistance with the credit card payment process, we're here to help! Click HERE for our step-by-step guide that walks you through each stage of payment.
About De Bruyne Number 17
Kevin De Bruyne, a highly regarded Belgian midfielder, showcases his exceptional skills for both Manchester City and the Belgian national team despite being 30 years old.
Since his arrival at Manchester City from VfL Wolfsburg in 2015, De Bruyne has emerged as a vital player for the club. Sporting the number 17 shirt, which he acquired from fellow midfielder Rodri, De Bruyne has become synonymous with the team's success.
Known for his remarkable passing accuracy, visionary playmaking, and ability to score impressive long-range goals, De Bruyne has earned numerous accolades.
Moreover, he was honoured with the prestigious 2020 Premier League Player of the Season award.
Furthermore, his influential contributions have played a pivotal role in Manchester City's triumphs.
Consequently, the team has secured four Premier League titles and been propelled to the highly anticipated 2021 UEFA Champions League final.
Shipping Information
Generally, we deliver your shirt within 8-12 working days, but on some special occasions, we may take a bit longer. During the checkout process, our system will calculate and display the shipping fees, and we will present shipping options based on the availability of each location.
Size Chart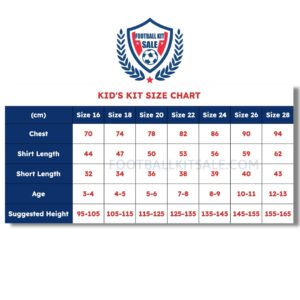 Description of Manchester City Bruyne 17 Away Kids Football Kit 22/23
Established in 1880, Manchester City Football Club, based in Manchester, has a rich history.
Their home ground, the Etihad Stadium, hosts over 55,000 fans.
With four Premier League titles in the past decade, including recent successes, they are a dominant force.
Rivalries with Manchester United and Liverpool fuel fierce competition.
Manchester City's loyal and vocal fan base, known as the 'Citizens' or the 'Blues', passionately supports the team's iconic sky blue kit.
Moreover, they showcase intricate passing and movement on the field, embodying a possession-oriented style.
Furthermore, notable signings like De Bruyne, Mahrez, and Dias highlight the club's commitment to acquiring top-tier talent.
In addition, their consistent presence in the Champions League solidifies their status as an elite team in both England and Europe.
Our Manchester City Collections:
Customers who bought a Man City Bruyne 17 Away Kids Football Kit 22/23 are also interested in
=> Free Shipping When You Buy 3+ Items